Direct to consumer brands are making a splash all over social media. They've found that through using social media, not only can they build their brand's aesthetic and tone of voice, but that they can also use it as a powerful tool at different stages of the purchase funnel ($$$$).
On this list, we'll look into 8 different social media strategies that consumer good brands can execute today with almost no budget throughout different platforms, and analyse examples of DTC brands that are already killing it in their social media strategies.
TikTok how to tutorials:
There's no surprise on why TikTok made it to this list. The popular Gen Z social media platform has taken an important place in DTC brand's marketing strategy. A great example of this is the How to tutorials from NYX Cosmetics. They launched an influencer marketing campaign that provides product education and brand awareness at the same time. Watch NYX's campaign with the hashtag #ButterGlossPop.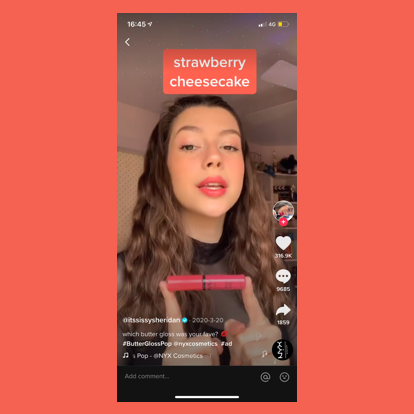 Takeaways: Give Tik Tok creators creative freedom to speak on behalf of your brand.
Branded hashtags to drive user-generated content
This strategy is going strong, with brands reinventing ways to launch UGC campaigns, especially during the COVID19 crisis. Take Rixo, a London-based womenswear brand, they encourage their followers to tag them and use the hashtag #humansofRixo to be featured on the grid.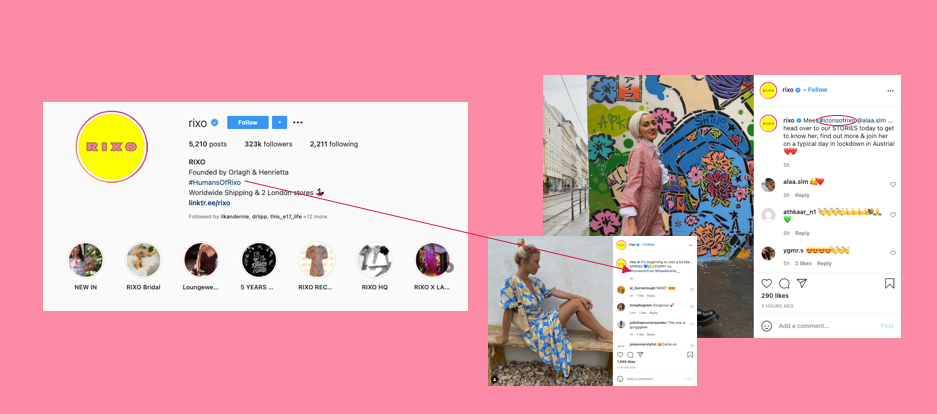 More recently, they've evolved their same call to action and added a second branded hashtag #iconsofRixo, which highlights special user-generated content from profiles that have an extended collaboration with the brand, beyond a tagged photo.
Takeaways: Use a clear CTA and a branded hashtag on your bio and encourage followers to act to be featured.
Use an optimised bio link
One of the most powerful yet underutilized social media strategies is the link in your Instagram or TikTok bio. The only clickable link on your Instagram or TikTok profile should be optimised with everything you need to share to your followers. This might include a direct link to your website, highlights of your best-selling products, access to your most recent blog post or even a newsletter signup form. Dive deeper with this complete guide to build an optimised bio link.
Now take a look at Fussy's bio link strategy. On their link in bio they not only have a direct link to their website, but they're multiplying their efforts by providing a signup form + access to relevant content that builds their brand experience.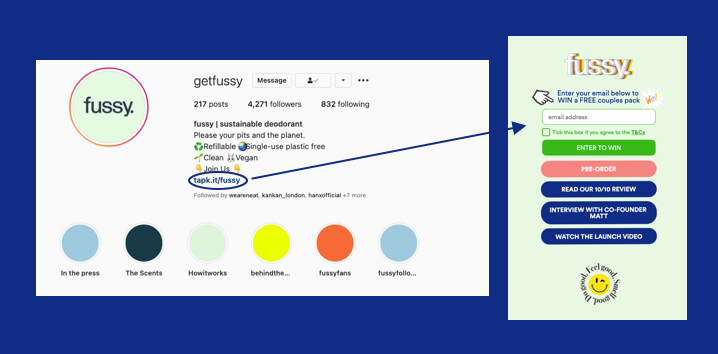 Takeaways: opt for an optimised bio link to share relevant content to your audience and execute digital marketing campaigns like newsletter signups/subscriptions.
Step by step guides in Reels
If you're not ready to make the jump to TikTok, Reels are a great alternative, especially if you already have a strong, engaged audience on Instagram. Think about sharing step by step guides on how to use your products or even add in a collaboration. Omsom Reels content is the perfect example. They create step by step recipes to educate their followers with ideas on how to use their products. Reels editing capabilities allows them the flexibility to produce engaging content that can be quickly edited.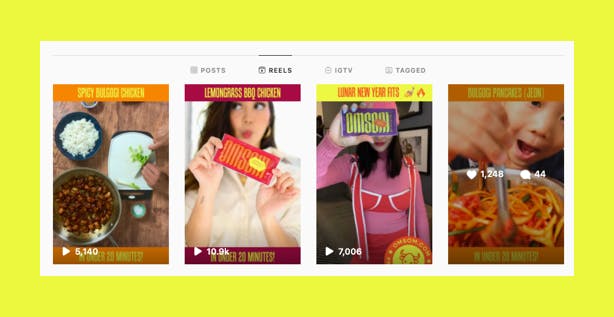 Takeaways: Use Instagram Reels to create educational, high-quality videos to prompt your audience to engage with your products.
Pinterest powerful graphics and SEO strategy:
There are plenty of good reasons why a CPG brand should be on Pinterest. Pinterest is a great digital discovery tool as it works well when there's an optimised SEO strategy within each pin. Plus, it allows brands to double down on their storytelling through strong and compelling visual aids.
Take Haus, who's not only revolutionizing the apéritif world, but has also made a huge buzz with their unique style and tone of voice. Even they outdid themselves with amazing content like infographics that couldn't live on any other social platform but Pinterest.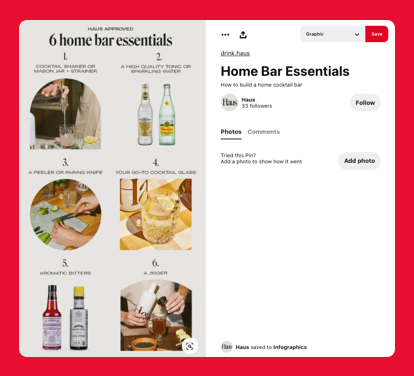 Takeaways: Consider using Pinterest as a backup to build SEO backlinks and share engaging content in different formats.
IGTV episodes:
Disruptive video content is here to stay. Instagram TV (IGTV) is a great platform to host video content and one way to go at it is with weekly episodes with engaging content that keeps followers coming back. This is a great way to build your brand in a non-sales way. A great example of this is the People & Planet Unwrapped IGTV series by Impact Snacks. Where their brand ambassador represents and appeals to their target audience and covers topics that Impact Snacks stands for like sustainability in a disruptive and content-rich way.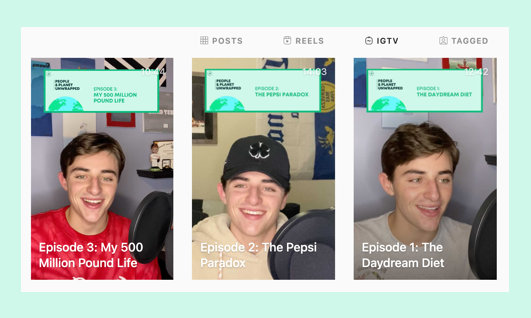 Takeaways: Think of a low-cost production and high-quality content topics you can share on a regular basis on IGTV or any other video platform like Youtube or Reels.
Join Clubhouse 
Clubhouse is positioning itself as the next big social media platform for DTC brands. Consider creating a profile as a member of your brand and joining Clubs for direct-to-consumer brands like:
Club CPG
Commerce Club
CPG Talks
Or any other relevant Clubs for your industry and target audience. Take some inspiration from Dr Sam's skincare brand. She announced in her newsletter that she would participate as a guest on the Skinthusiast Club, a space perfectly relevant for her niche.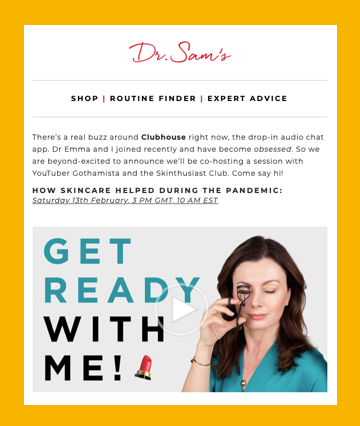 Takeaways: Everyone is relatively "new" to Clubhouse. If you've got something interesting to share, don't miss out on collaborating with Club founders to guest-appear in a conversation.
Story takeovers
Even though Instagram stories have been challenged with the arrival of Reels, they're still a favourite medium for DTC brands to share their brand's ethos. A great way to do this is having a guest take over your stories. This can be done remotely and at a low cost.
Prim Botanicals executes this strategy, having guest brand ambassadors speak on behalf of their brand.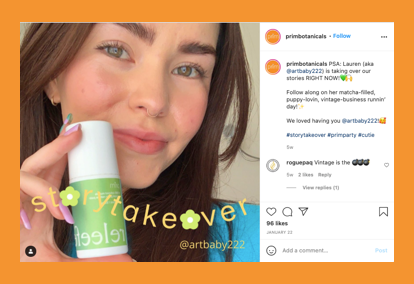 Summary
Instagram:
Optimised bio link: make sure you're optimising this your Instagram and TikTok bio link with a branded and smart bio link. Update constantly to execute marketing campaigns.
User Generated Content: create a brand hashtag and encourage customers to use it to be featured on your feed. This is an easy digital marketing strategy to gather valuable content quickly.
IGTV series: Think of spiky content topics you can share on a regular basis on IGTV hosted by your team members or guest hosts.
Story takeovers: Having a guest take over social media stories provides great value to your brand and is a fast strategy to execute as you rely on your guest. Make sure you partner up with someone that represents your brand well.
Reels: An alternative if you've got no time to build an audience on TikTok. Use Reels to educate followers about your products with step by step guides.
TikTok
How to tutorials on TikTok: Give TikTok creators creative freedom to speak on behalf of your brand.
Clubhouse:
Join as a brand member:  Join relevant clubs to your brand and don't miss out on collaborating with the Clubs founders to guest-appear on a conversation at this early stage of the app.
Pinterest:
Pinterest SEO: Pinterest is a great channel to us as a backup to build SEO backlinks and share content in different formats like infographics. It's free to use and easy to build engagement.
Ready to try these new social media strategies for your brand? Make sure you have a look at our Bio Link Ultimate Guide to help you nail your bio link strategy!