Intent testing is a concept testing method that helps you get an early indication of how your business idea performs with your target audience. In this article, you'll learn how to easily perform intent testing using Faraday's own intent test tool. We'll also show you how to analyse the results and take further action.
We promise you won't need any technical know-how or any marketing prowess. 😃
What is intent testing?
Before we speed off into the nitty-gritty, let's define intent testing first. Here's a good definition of an "intent test" from the Faraday website.
"Put your ideas, creatives or propositions in front of thousands of real customers and quickly see what peeks interest."
Intent testing is a concept testing method where you put your business ideas, creatives, or propositions in front of real "prospects" and see if there's any interest. It's an effective way to validate any business idea you may have, especially at an early embryonic stage. Too often, too much time, money and resources are spent developing ideas before they've even been tested. Faraday allows you to quickly test out whether there is real intent for your idea by using real-world ad audiences.
It's a good idea to intent test your business ideas (pun intended 😉) to avoid investing in ideas and propositions that won't be successful, before spending too much time and money — as well as give you information about your potential customers.
How can I use Faraday's Experience Builder for Intent Testing?
Faraday's goal is to help business owners and enthusiasts like you minimise the potential risk on your ventures by validating ideas first and gathering customer feedback and information.
Here's a quick video by Tania walking through Faraday's Intent Test tool, just one of many test types inside Faraday!
Like what Tania said on the video, with Faraday's Builder you have creative control to build a custom-made feedback experience using our widget style builder.
Designing your Experience
To get you started, we've made ready to use templates to choose from: 
Business Idea Validation
Customer Research
Product Roadmap
Demographic Survey
Product/Brand Engagement
Staff Satisfaction
After-sale Feedback
Product Innovation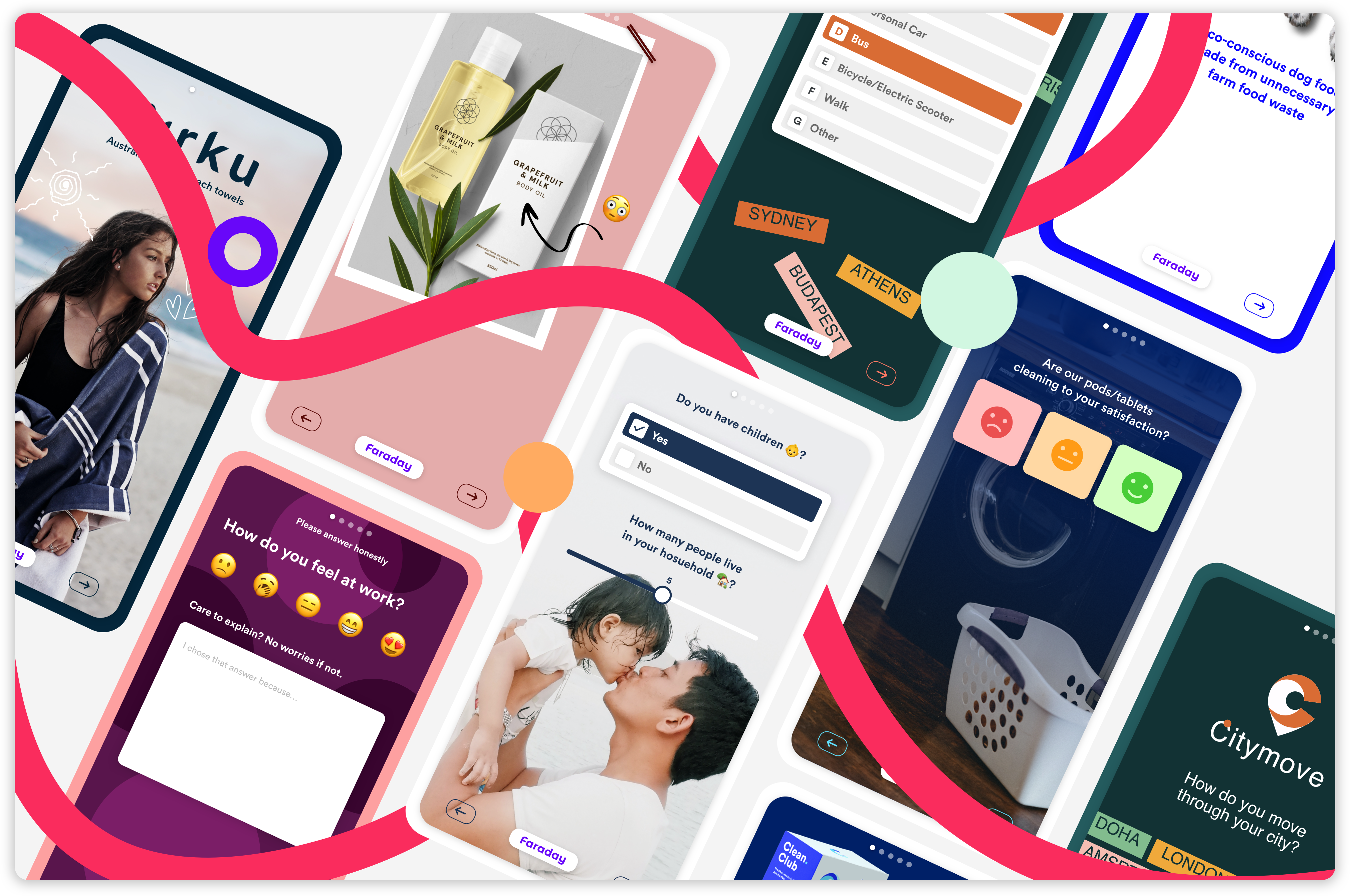 But if you think none of these are right for you, you can create one from scratch! Starting from a new blank canvas.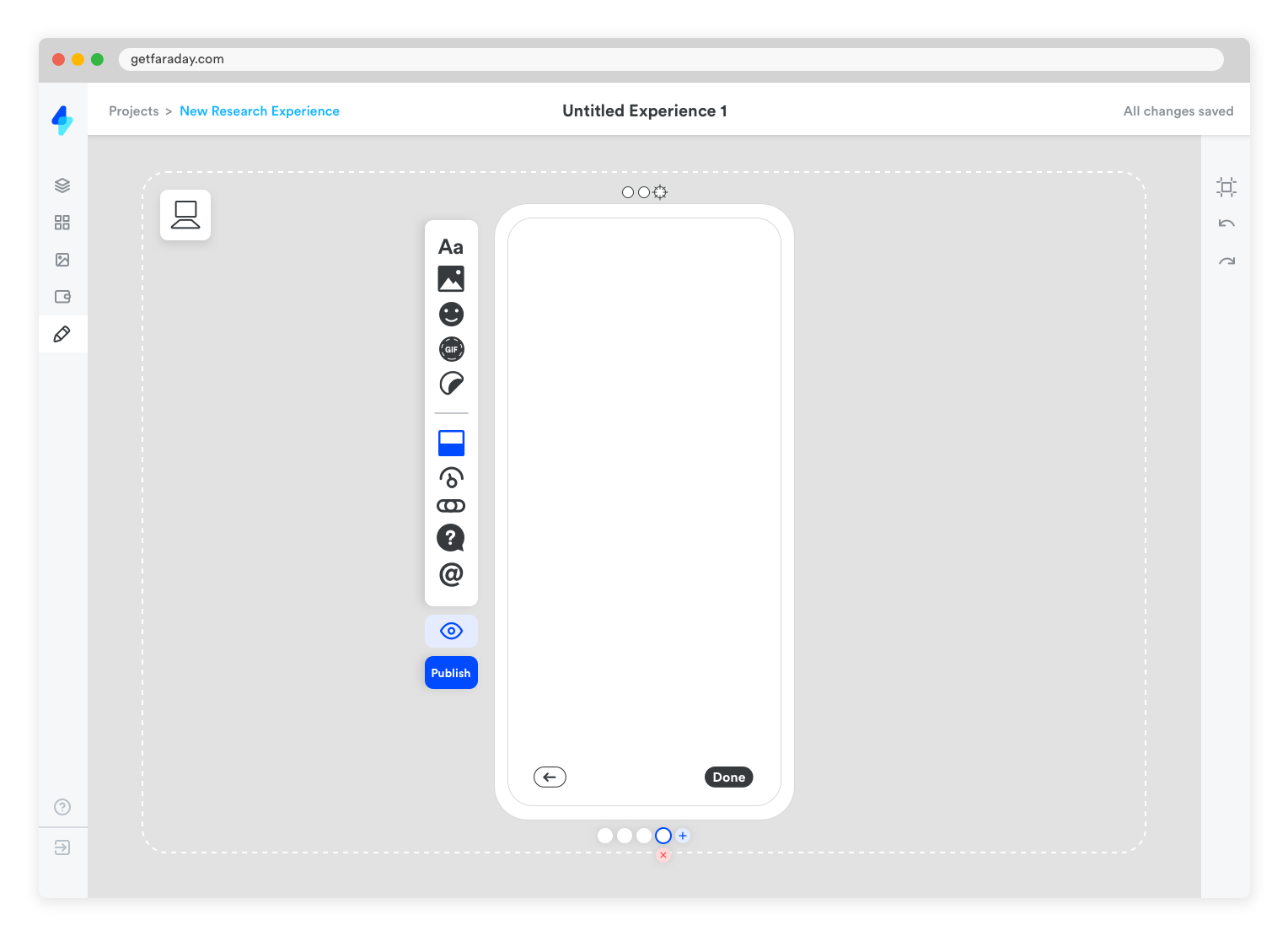 Customize
On your new canvas, you'll find a set of tools to help you add fun elements to your experience like:
Background colour
Text
Images
Emojis
Stickers
And interactive tools like:
Image picker
Slider
Emoji-o-meter
Polls
Open questions
Email Capture forms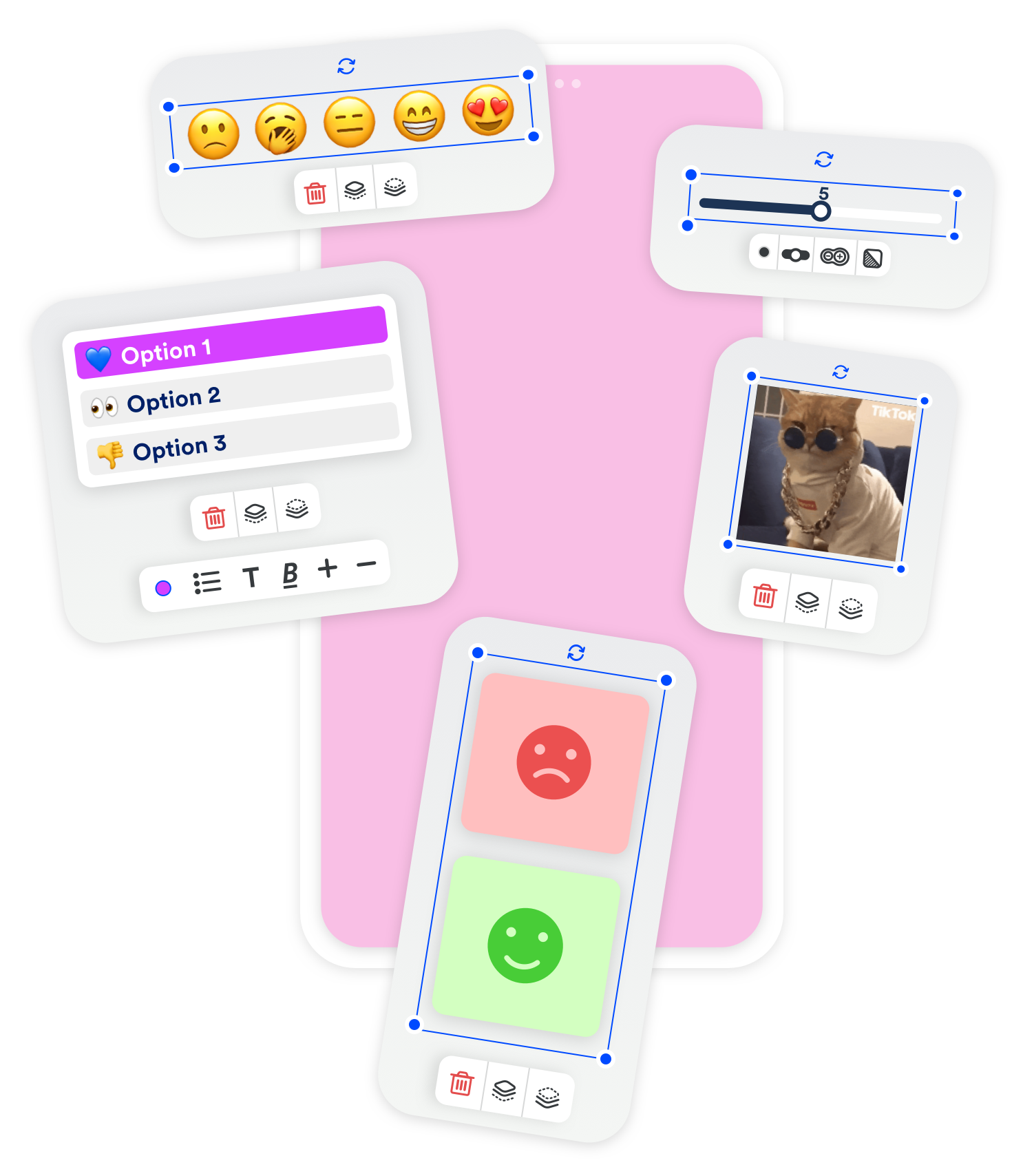 Once you've finished hit the Publish button and choose your own URL handle. This will be the link to your experience!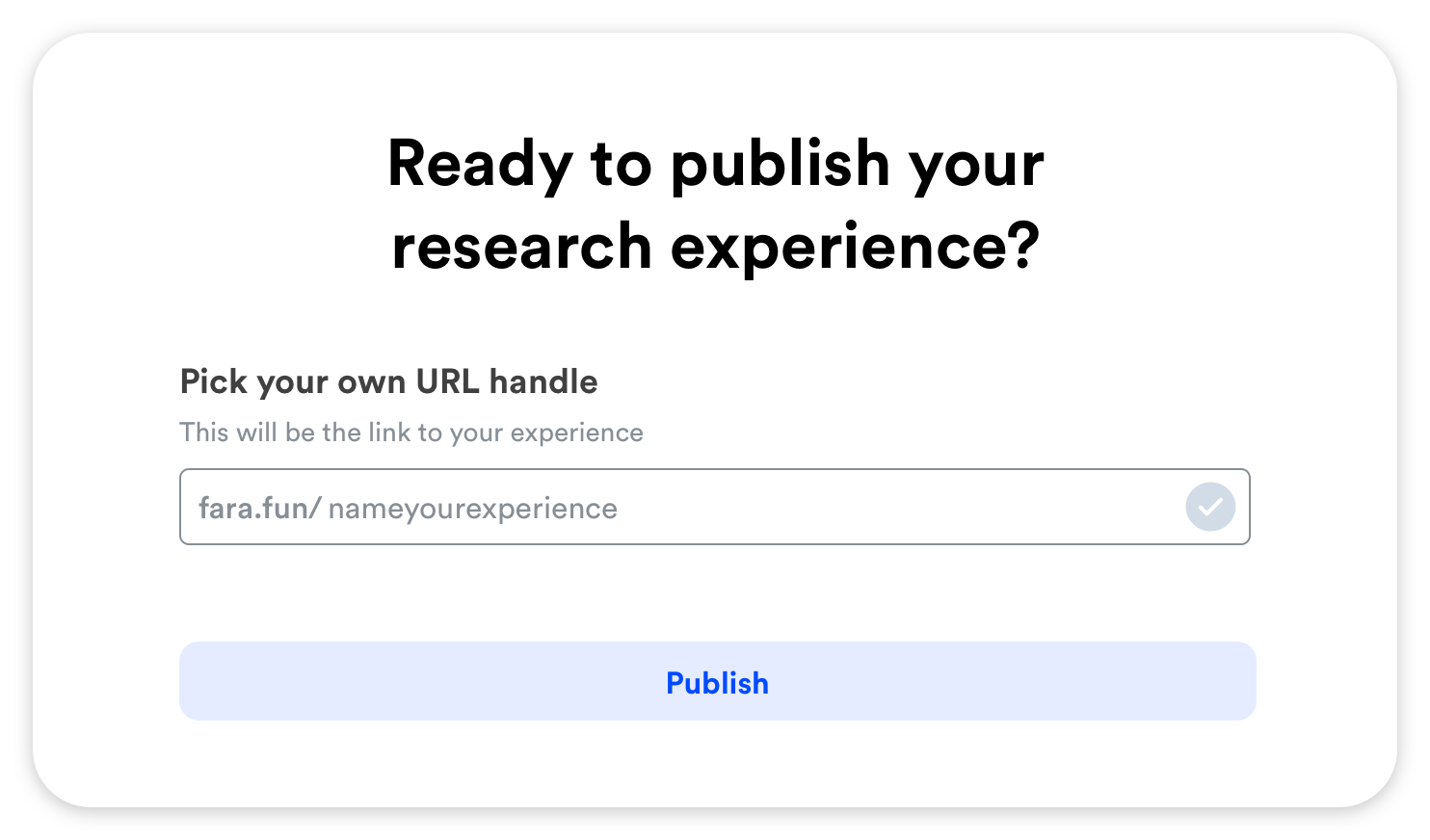 Build your Audience
Platform
What social network do you wish to use? This is the platform where we'll advertise your Experience.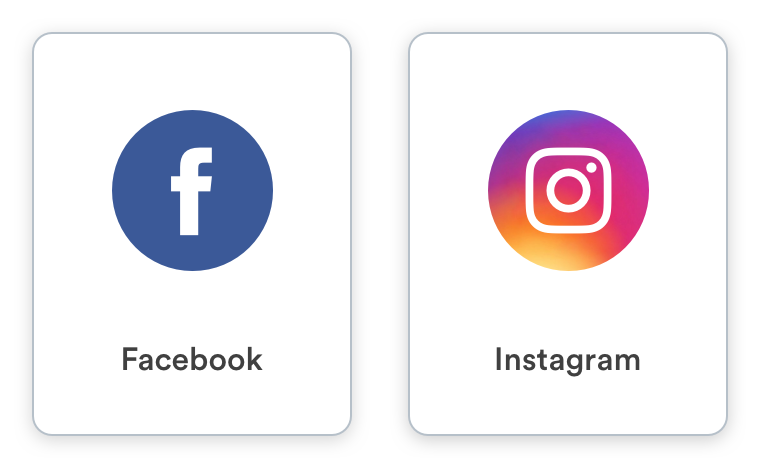 Project
Choose the Experience you want to link to your Audience. This is the post-click experience your users will flow to after engaging with the ad.

Ad
This is where you can design how your ad will appear to your audience. 
Add your logo or pick one of our stealth brands.
Then add an image.
Finally, write a concise caption to pique interest.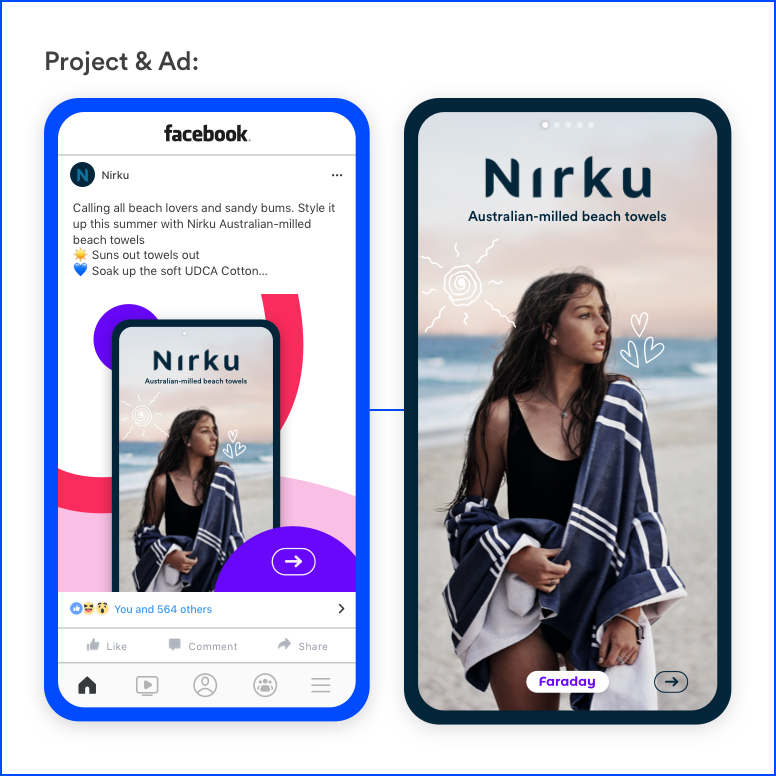 Audience
Once you've got those nailed down, you'll need to define your target audience. In this section, you'll be able to:
Select the nationality (currently, only UK and US citizens)
Gender
Demographic
Interests
Here's the twist — all you need to do is click the appropriate option like this: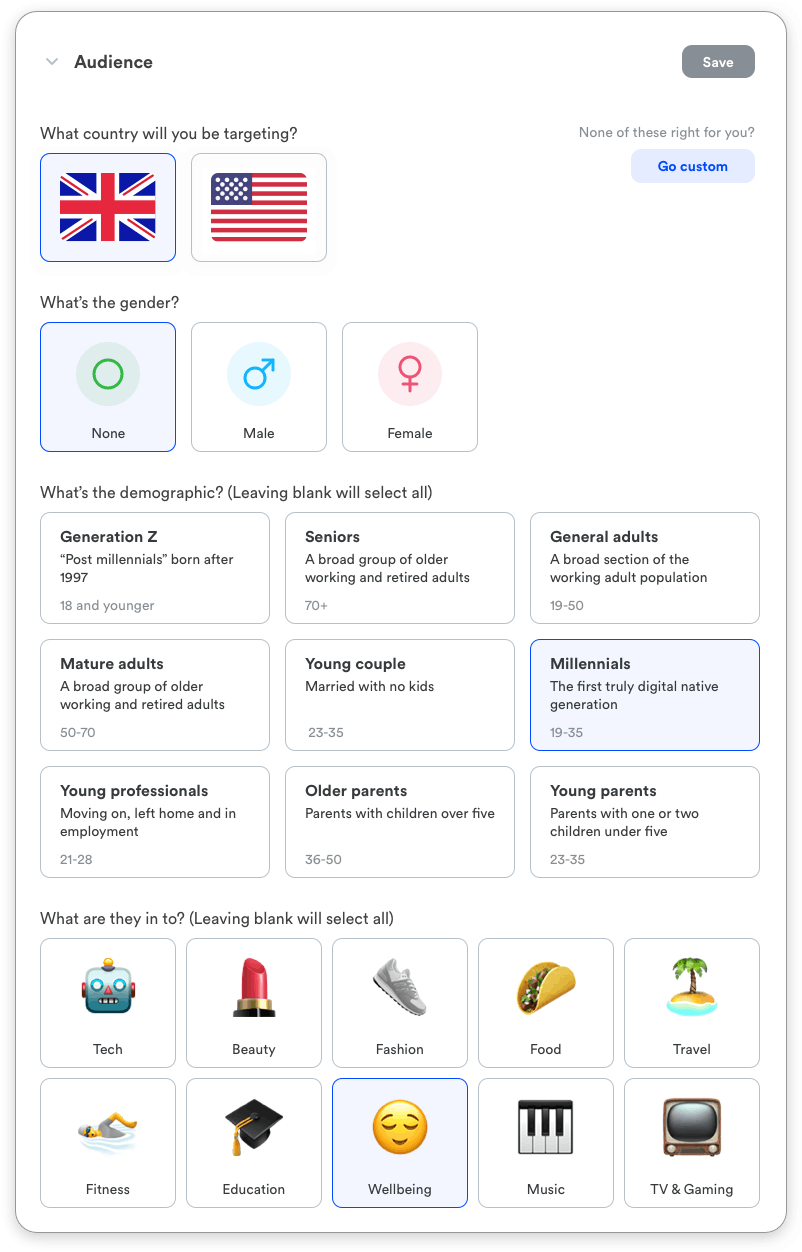 In case you can't find the right target or find the parameters currently in place don't quite fit your particular customer profile, you can also enter your own custom audience. This is where you can note everything about your customer profiles and the Faraday team will target your ad as closely as possible to whatever you input here. The more you tell, the more targeted Faraday can get!

Total Budget
Remember, the intent test targets your audience through paid advertising within Instagram. Meaning, your budget would also dictate how many people your test could potentially reach (represented by "Impressions").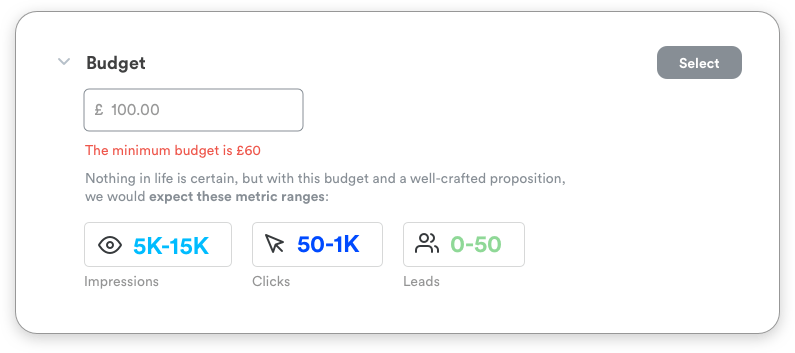 As you can see from the image above, Faraday gives you an estimate on the number of impressions, clicks, and leads your test will get based on your budget. The higher the budget — the more people you reach and the more leads you're likely to get.
All in all, setting up your own Feedback Experience via Faraday's Builder could take up as little as 3 minutes. Awesome! 👏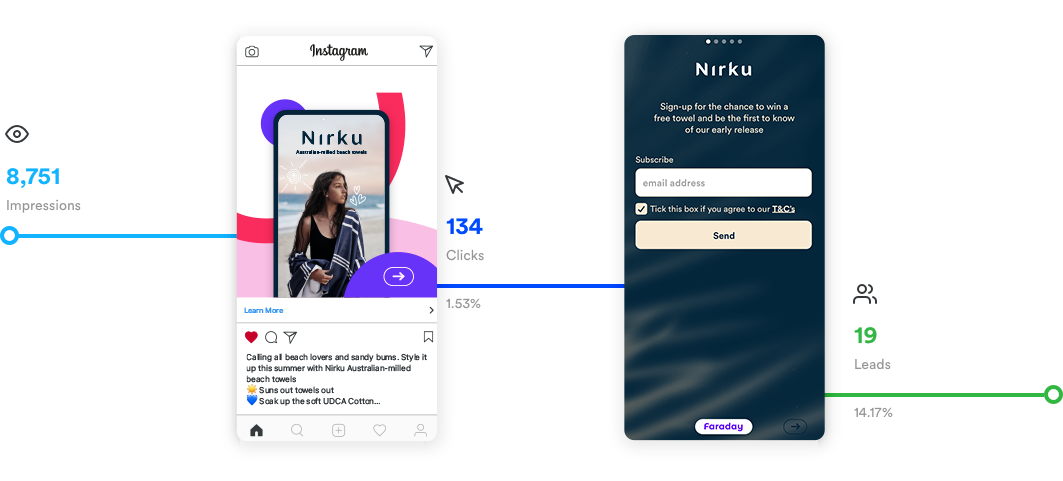 But how do you know if your intent test validates your idea? One of the things the report covers is the cost per sign-up (CPS) score. This score represents the cost of acquiring a sign-up (the sign-ups being a strong signal of early intent.
If a user was willing to hand over their email at this stage, it's very likely they could be converted into a customer — treat a sign-up as a likely sale/interested party should your business be up and running). Faraday lets you easily know how well your proposition performed by using a meter-like visual, benchmarked against the following criteria — values under $10 are good for consumer goods, Under $5 for mass-market and $10-$20 for niche/luxury products or services.

Aside from knowing how viable your business idea is, you'll also get information about your potential customers. Faraday gives you a demographic breakdown of your page views by gender and age and how well the test performed respectively for each. Any sign-ups will filter into your 'Customers' tab inside Faraday — contacts you can reach out too later to help with business development, user-tests, discounted trials or even acquire as customers.
If that wasn't enough, there's a summary section at the bottom of the report page which contains a compressed version of your results in plain words… Plus a few other things. 😉
Easy! 👍
Wrap Up
Intent testing is a great way to validate your business idea or proposition. One of the tools you can use to simplify this process is Faraday's Intent Test tool which is super-easy to use.
Too often, human habit is to get caught up in a cycle of over-perfecting, over-thinking and constant iteration without even testing the fundamental proposition — the first thing you should ask yourself is: how viable is your business idea to your target audience? An intent test will help you find the answer and gather potential leads.